Christos Boulotis
Mrs Orthography and her family
picture book | 6+
ISBN: 978-960-594-068-3 • Price: 15,00€  • 21x29 cm. • Pages: 40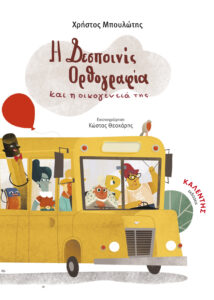 The book | These hilarious stories provide young readers, who are making their first steps at school, the opportunity to discover the wonderful world of literature while meeting Mrs Orthography and her family, Mrs Language, Mrs Grammar, Mrs Alphabet and so on...
Ten fantastic stories written by award-winning author Christos Boulotis and illustrated with marvelous modern artwork, which children are surely going to love.
The author | Christos Boulotis was born at Myrina on the island of Limnos. He is an archaeologist and a member of the Athens Academy. Having previously taught at the Ionian University he now teaches both in the postgraduate programs of the University of Athens and the School of Fine Arts. He has conducted excavations on the islands of Crete, Limnos and Santorini and in Peloponese. Since 1987 he has been a prolific author of children's books, with more than seventy titles published. His first published work, «The Strange Love of the White Horse and the Poplar Tree» was awarded the Pier Paolo Vergerio prize in 1989. «The Water-Melon Thief» and «The Statue Who Was Always Cold» won the annual prize awarded by the Greek Section of IBBY in 2003 and 2000 respectively.
Costas Theoharis is an illustrator, designer, artist and typographer. His work deals with a wide range of image-related applications. He has worked with many publishing houses, creative offices, companies and participated in personal and collective art projects. His work has been awarded many times.